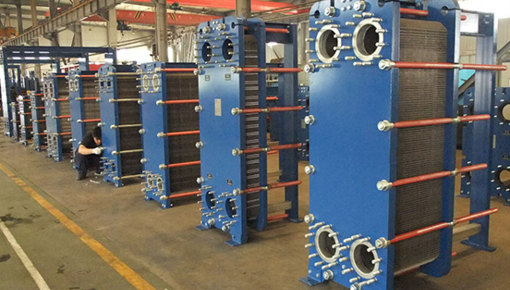 Plate Heat Exchangers (PHE)
Plate heat exchangers (PHE's) can, depending on the time, become polluted by, among other things, lime and/or biological deposits. This reduces the flow and the heat transition, which reduces the efficiency. Prevent this with Goodway CIP flushing systems
Read more
Plate Heat Exchangers Cleaning (PHE - CIP)
Plate heat exchangers are often disassembled and cleaned with high pressure. This is a costly and lengthy process. In some cases this is not necessary, if for example lighter lime scale is present, this can also be cleaned with a chemical pump (CIP = Clean In Place).
There is no need to disassemble, no high pressure is required and the unit can remain on site with virtually no disassembly work. This saves a lot of time, cost and labor. In addition, the plate heat exchanger can be put back into operation faster.
CIP is a simple way to connect a chemical pump to the plate heat exchanger. In a dense circular circuit, the chemical detergent is pumped around. This will react with the contamination and eventually remove it. As a result, the unit will function optimally again.