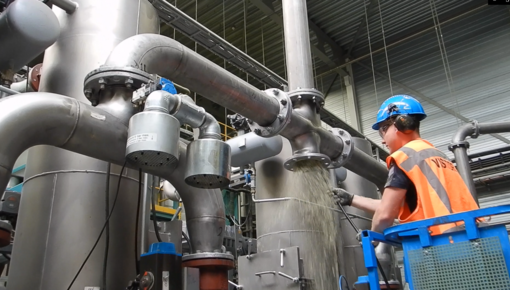 Production lines (Food)
Production lines in the food industry can become clogged and clogged with product or other contaminants after some time. This not only increases the chance of ''cross-contamination'', but also ensures less throughput, due to the blockage(s).
Read more
Production/Transportation Tubes Cleaning
In various industries, production companies are struggling with pollution in the production and transport pipelines. Think of the food production and petrochemical industry, where many different products are transported using pipe systems.
With Goodway Benelux we offer an innovative and highly effective maintenance solution for this. Used for a wide range of pollution, below some examples:
Milk
Meal
Various other ingredients
Practical examples
How does it work?
The tube cleaning method of Goodway Benelux consists of a number of facets: (1) Tube Cleaning System, (2) Flexible shaft, (3) Brushes.
Tube Cleaning Machines

are systems that ensure that the brush can eventually rotate. These machines are available in both electrically and pneumatically driven versions. Some machines can rotate at a certain fixed speed, while others have an adjustable speed. As a result, cleaning can be even more controlled. In addition, they rotate both left and right. This way the contamination can be reached from 2 sides.
Flexible shafts are the couplings between the machine and the brush(s). With an internal core that rotates around, the brush can be driven. On the outside there is a high temperature sheath which can be held and fed in. These shafts are available in various diameters and lengths, depending on the piece of pipe to be cleaned.
Brushes are used to actually come into contact with the contamination and also to loosen it. Often oversized spider brushes are used, which provide an optimal cleaning effect.
Finally, it is also important that there is sufficient suction present. Without suction you can brush the pollution loose, but it will not be removed from the tube. For this you can use an already existing extraction system, or a GoodWave fan.
Contact / Interest
Does your production plant have to deal with these kinds of processes, and does pollution, in any form, play a role?
We can advise you without obligation! With our innovative method for pipe cleaning, we can possibly even contribute to the improvement of your (preventive) maintenance processes!
You can reach us via this page, we will gladly help you!