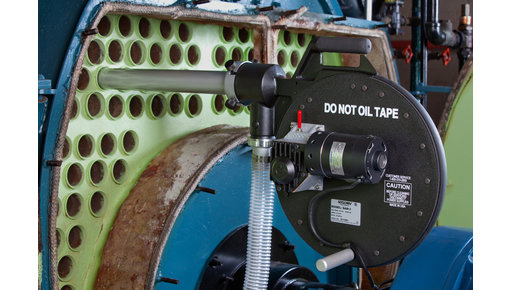 Boiler Cleaning
Boiler cleaning is often a tough and lengthy job. With the right equipment from Goodway Benelux you can not only make this task faster, but also simpler and more effective. Check out all our innovative equipment now.
Boiler Cleaning
Introduction Boiler cleaning
Boiler cleaning is often a challenge to keep things running smoothly. In addition, of course you want the cleaning to be quick and efficient. This keeps the down-time of the installation short and of course saves costs. By using the right equipment during maintenance, boiler cleaning can not only be faster, but also simpler and more effective.
Advantages Boiler cleaning
Some boilers pollute very quickly during operation. For example, soot contamination in flame pipes, this creates a polluting layer on the inside of the pipes. This layer ensures that the heat transition is negatively affected. This lowers the efficiency of the boiler and increases the costs to keep running at the same level.
By carrying out regular maintenance, the efficiency of the installation can be kept in peak condition. In this way, you ensure that energy consumption and time are kept to a minimum. So you benefit directly from this!
Mechanical Boilers Cleaning
Mechanical methods are often used with smaller boilers, because they are handcrafted. The biggest advantage of mechanical cleaning is that it is especially effective in case of heavy soiling. This is because you can use various heavy-duty cleaning tools to remove the dirt. For example the flex hub tools.
This allows you to remove the heaviest dirt from the flame pipes. Having a set like this is always advised. After all, you can get straight to work if cleaning is required and you are completely in control of the cleaning.
Pneumatic Boilers Cleaning
Pneumatic equipment is used to clean (flame) pipes in boilers quickly, effectively and above all with as little labour as possible. It is also a handy system for cleaning larger bowls with 100 or more pipes.
For pneumatic boiler cleaning we recommend the Putzmaus System. This is a completely self-contained cleaning system, which allows you to clean pipes of all sizes. The system feeds itself through the pipe and also comes back automatically. As a result, the operator has almost no work to do and cleaning is extremely quick. It's even the fastest method possible at the moment.
The Putzmaus System can be used for regular maintenance. For extremely dirty boilers and pipes, we recommend mechanical cleaning.
Personal assistance
You're not getting out, are you? Then use our live experts on the chat at the bottom right. They will be happy to help you choose a set based on your preferences and activities.
Or call us directly through the contact form.