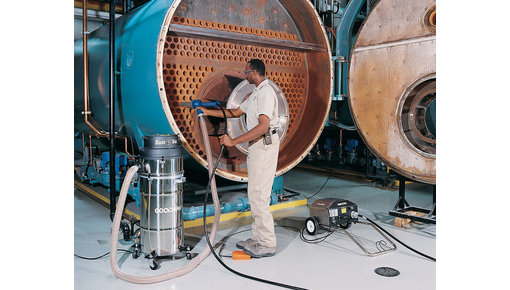 Boiler Cleaning (Mechanical)
Mechanical boiler cleaning equipment is perfect for smaller boilers to remove heavy pollution from (flame) pipes. In addition, it is excellent equipment to carry out regular maintenance on boilers. In this way, you ensure optimum returns.
Boiler Cleaning (Mechanical)
Introduction Mechanical Boiler Cleaning
Mechanical boiler cleaning is especially useful for smaller boiler systems for regular maintenance or to remove heavy soiling. Because you can regularly clean the (flame) pipes of the boiler, the efficiency of the installation will remain optimal. In this way you avoid unnecessary energy consumption and time spent.
How does it work?
Mechanical maintenance is quite simple and can be done (almost) without training. Below you will find a short summary, how this equipment works by means of a small step-by-step plan:
Tube Cleaning Machine. A Tube Cleaning machine drives everything. So choose a good machine, the choice is easy to distinguish. For example, you can select machines that run on electricity or compressed air. In addition, you can choose between different motor power and rotation speed.
Flexible Hose. You need a flexible hose to make the connection between the machine and the cleaning tool. You connect this directly to the machine. The inner core is driven and the mantle remains constant. So you can just hold the mantle during cleaning. It is also extra strong and heat resistant to 140 degrees Celsius.
Cleaning Tools. Cleaning Tools are very important to perform an effective and useful cleaning. By selecting the right tool(s), you ensure that the contamination is removed quickly and effectively. This increases the cleaning speed and effect, so that each cleaning takes less time.
Suction. With a good extraction system you are complete. Connect this via, for example, a GTC-DPA tool. This allows suction directly during cleaning, which ensures that the pipe is sucked clean immediately. This speeds up cleaning and works better for the operator, who is then much less bothered by loose dirt, such as soot.
Personal assistance
You're not getting out, are you? Then use our live experts on the chat at the bottom right. They will be happy to help you choose a set based on your preferences and activities.
Or call us directly through the contact form.