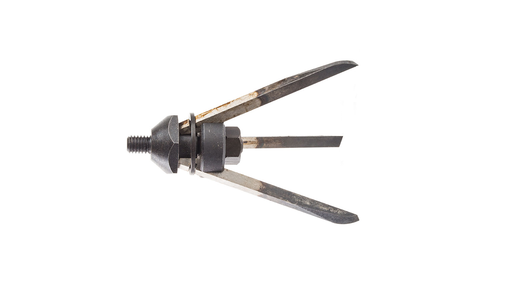 Cleaning Tools
Heavy-Duty Cleaning Tools are used to remove heavy dirt inside pipes. Usually from 25 millimeters I.D. and up. Use these tools in combination with heavy flexible shafts and a tube cleaning machine.
Read more
Selecting the right tool
The product experts of Goodway Benelux have added several cleaning tools for boiler cleaning. In general, the Flex Hubs are the most commonly used tools. 
Flex Hub tools are special centrifugal cleaning tools that adapt to the pipe diameter for an optimal cleaning effect. Because the 3 ''steel blades'' automatically adapt to the pipe, it is also minimal work for the contractor. Only select the correct flex hub for the pipe diameter. 
The Flex Hub tools are connected by means of a threaded connection to a heavy duty flexible shaft, which in turn is driven by a Goodway Tube Cleaning machine.
Clogged pipes
When there is a traffic jam, buffing tools offer the solution. These tools can be equipped with a drill head (drill tip). This allows you to place the centring drills in the pipe and drill out the blockage.
Personal assistance
You're not getting out, are you? Then use our live experts on the chat at the bottom right. They will be happy to help you choose a set based on your preferences and activities.
Or call us directly through the contact form.