Systems for Cleaning and Maintenance
Largest inventory in Europe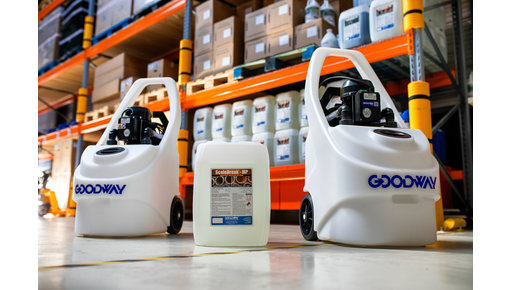 Flushing Systems
Goodway offers innovative flushing systems to chemically clean various applications such as (plate) heat exchangers according to the CIP method. Various devices are available for both large and small installations.
Flushing Systems
Innovative flushing systems
Goodway offers several flushing systems for chemical cleaning. Each system has advantages and disadvantages and is suitable for a specific range of applications. Flushing systems are available for smaller applications such as plate and tubular heat exchangers. In addition, larger flushing systems, such as the GDS-100 are also available.
All systems combine high flow with a buffer tank, virtually eliminating the need for other peripherals. This makes it easier for the end customer or contractor to perform the CIP. Furthermore, the smaller pumps also have a flow-reverser. This allows the flow of the flushing system to be reversed at once, perfect for removing built-up gases and therefore speeding up cleaning time.
Applications within the industry
A chemical CIP is almost always possible to perform, regardless of the industry. If the system is suffering from scale formation that cannot be easily removed, CIP may be the solution. It is important to choose the right flushing system as well as the chemical for your cleaning application. When the correct equipment/agent is used, the chance of success is the highest. In addition, when the correct pump is used the cleaning time will be as short as possible.
If you do not know which flushing system is right for you, our experts will be happy to help. Please contact our customer service team.
Systems for Cleaning and Maintenance
Largest inventory in Europe