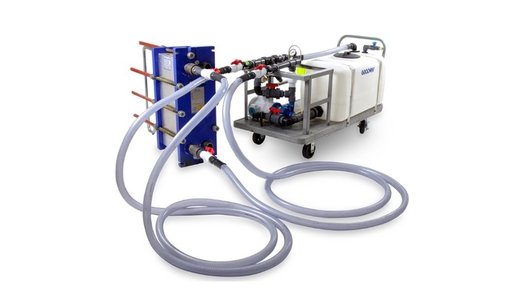 Flushing Systems
Goodway supplies innovative flushing systems to chemically clean various applications such as (plate) heat exchangers according to the CIP method. Various devices are available for both large and small installations.
Read more
HVAC & Industrial Flushing Pumps
Goodway flushing pumps are designed to clean commercial (HVAC) and industrial installations using the CIP (clean-in-place) procedure. The advantage of CIP is that the installation can be cleaned on site with very little disassembly. A correct flushing pump is very important to achieve a good cleaning result. Goodway Benelux offers various systems for this, each with specific specifications, making them suitable for certain areas of application.
All flushing pumps combine a high flow with an integrated buffer tank, which means that virtually no peripheral equipment is required. This makes it easier for the end customer or contractor to perform the job. Furthermore, the smaller pumps also have a flow reverser. This allows the flow of the flushing system to be converted instantly, perfect for removing built-up gases and thereby speeding up the cleaning time.