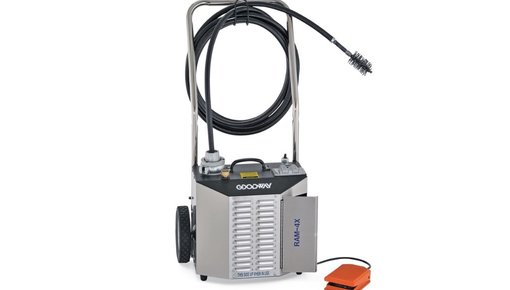 Boiler Tube Cleaning Systems
Goodway Benelux offers different boiler tube cleaning systems. Depending on the needs of the client, an electric or air-powered boiler tube cleaning machine can be supplied. These boiler cleaning systems can be used for other heat exchangers too.
Read more
Mechanical boiler tube cleaning
Mechanical boiler tube cleaning is an effective method to remove all kinds of deposits from boiler fire tubes. A mechanical boiler tube cleaning proceducure consists of a boiler cleaning system, a flexible shaft, and a brush or cleaning tool (scraper). The cleaning brushes and scrapers rotate at high speed in the fire tube, creating friction, which quickly releases the deposit on the tube wall. By simultaneously using a vacuum system, the loosened deposits can be immediately extracted and collected. No water is used during the boiler cleaning process, with a mechanical boiler tube cleaner machine of Goodway.

Boiler tube cleaning systems
Goodway's boiler cleaning systems are also known as rotary tube cleaners, due to the rotating brushes and tools. The most-used boiler tube cleaning machines are the AWT-100X (air-powered) and the RAM-4X (electric). Boiler cleaning systems are used in different types of industries, including food production, chemicals, and the maritime industry (for instance container- and tanker ships). Both boiler tube cleaning machines are suitable to clean other applications, such as shell & tube heat exchangers, falling film evaporators, and extraction- and process piping.