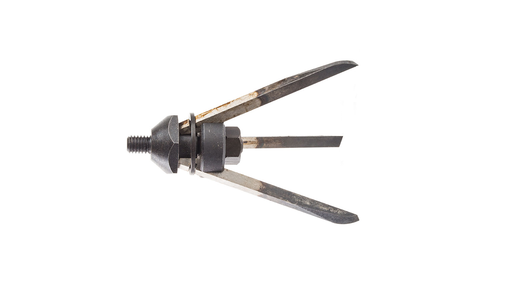 Cleaning Brushes and Tools
Goodway Benelux is supplier of industrial boiler tube cleaning equipment. Different boiler cleaning brushes and tools are offered to clean the inner side of boiler firetubes (30-90 mm tubes), powered by a boiler cleaning system.
Read more
€219,95 Excl. tax
€266,14 Incl. tax
Flex Hub boiler cleaning tool
Flex hubs are special boiler cleaning tools that have been developed to remove hard deposits in boiler tubes. By means of centrifugal forces, the 3 blades automatically adjust to the internal tube diameter and scrape off the deposits. With 4 different flex hubs, it is possible to clean tubes from 13 to 102 millimeters (inner diameter). 
Nylon abrasive boiler cleaning brush
As a regular boiler tube cleaning brush, Goodway Benelux offers its NAB series (= Nylon Abrasive Brush). The NAB's have nylon bristles with a silicon carbide coating, so they not only provide a cleaning, but also a polishing effect. This leads to very effective boiler cleaning. NAB boiler cleaning brushes are always used in oversize, this can be between 5 and 10 millimeters. This means that for cleaning a tube with an internal diameter of 40 millimeters, a brush of 45/50 millimeters is required.
NAB boiler cleaning brushes are effective against soft-medium types of deposits. In case of hard deposits, usage of the flex hub boiler cleaning tool is strongly advised. Combined usage of the Flex Hub/NAB's is a very effective combination for boiler cleaning processes.
Cleaning the outer tube side
Most fire tube boilers are connected to a water treatment to prevent deposit buildup on the outer side of the fire tubes, such as limescale. However, it is possible that the water treatment does not function correctly or that for whatever reason limescale forms on the outer side of the fire tubes. In that case, the deposit must be removed in order to keep the heat transfer and thus the efficiency at an optimal level. A thin layer of limescale can already have a detrimental effect on the heat transfer. Read more about chemically cleaning the outer side of fire tubes here.