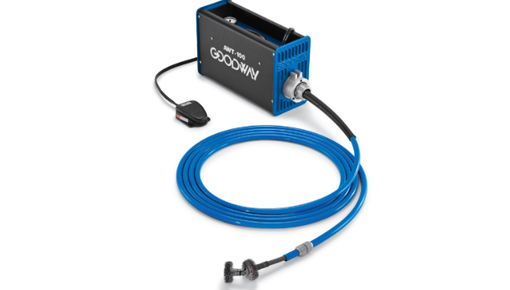 Drive Systems
Drive systems are required to rotate the flexible shaft, which will eventually rotate the brush in the tube. These systems are available in both electrical and pneumatic versions.
Read more
Drive systems for cleaning production tubes
Goodway Benelux offers various drive systems for cleaning production- and transportation tubes. The difference is in the drive type (electric or pneumatic) and rotations per minute. This allows you to match the drive system exactly to the available resources on site.
Advice of Goodway Benelux
The AWT-100X is the most widely used system within the industry when cleaning production and/or transport tubes. The AWT-100X is Goodway's most powerful system and has an adjustable speed of 500-3000 rpm. This makes it possible to rotate the brush at high speed in the tube. Often the cleaning result can be increased by using a higher speed, with the AWT-100X this is no problem.