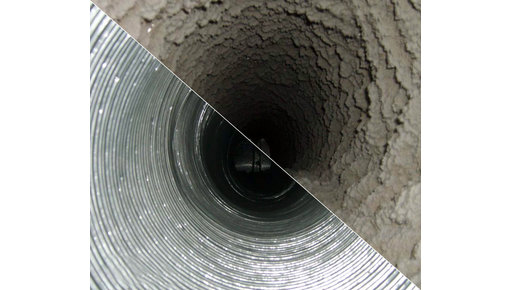 Duct Cleaning
Goodway Benelux offers various products and accessories for air duct cleaning. Power drill solutions for fast and effective channel cleaning and, for example, dust extraction to move dust professionally and get clean channels.
Duct Cleaning
What's important?
When cleaning air ducts, it is important that you can clean ducts in a good, fast and above all easy way. By this we mean: removing dust and other dirt. By cleaning air ducts you ensure that the duct is free of dirt and thus blows clean air through the environment. In this way you prevent diseases and infections with viruses, etc.
It is always important to have a good cleaning tool, a good example is the ecoflex. With this you can easily drive the brush by means of a drill. In this way you can quickly and effectively brush loose dirt.
After that, it's important that you get the right dust extraction selects. This is very important, because you only loosen the dirt with the ecoflex, you also need something to actually take it out of the canal.
By using the correct extraction, you ensure that the cleaning of air ducts is carried out quickly and effectively.
Budget
What is your budget? Are you a consumer who wants to clean his own channels, or are you a professional company that cleans channels on a daily basis? What do you want to show to your customers and what do you have in return?
To keep it easy and clear we advise the following:
- Consumers: Power Drill Solutions and/or Manual Cleaning.
- ZZP'ers - Professionals: Power Drill Solutions and/or Professional Cleaning Systems.
Here you can easily find the set intended for you at the best prices possible.
Remind yourself that the combination of dust extraction and loose brushing is very important.
Product Combinations / Packages
To save you a lot of searching and doubts, our experts have created product packages. It contains everything you need to clean your air ducts professionally. Think of an ecoflex shaft, vacuum fan, sealing caps and much more.
These sets save you not only time to search but also money! These packages have an advantageous combi deal price. This makes it even more attractive to choose a package.
Take a look at our runner; "professional air duct cleaning set.
Of course we guarantee that the package contains everything you need.
It's so easy!
What do I need to get started?
This may vary depending on your plans with the equipment. Loose brushing with brushes and dust extraction is always important. 2 cheap and easy items for this are:
- Ecoflex = for simply brushing off dirt.
- GBPV-850 = compact and inexpensive fan to collect dust.
- Sealing = to close open pieces in the duct quickly and easily.
Depending on your assignments, an endoscopic camera can also come in handy.
Personal assistance
You're not getting out, are you? Then use our live experts on the chat at the bottom right. They will be happy to help you choose a set based on your preferences and activities.
Or call us directly through the contact form.