Systems for Cleaning and Maintenance
Largest inventory in Europe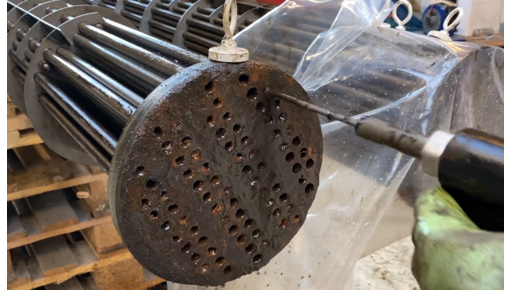 Drilling open Tubes
Blocked tubes in tube bundles such as heat exchangers can lead to serious problems. It is therefore crucial to get them open as soon as possible. Use mechanical drilling equipment for this purpose.
Drilling open blocked tubes
Various industrial installations with tubes can become so severely fouled over time that the entire tube becomes blocked. The result is a rock-hard contamination that is (often) difficult to remove. In addition, it is not possible to clean this chemically because no flow is possible. This is where mechanical drilling systems come into play.
Goodway Drill Systems (PSM-500)
Goodway Benelux offers an air powered drilling system, the PSM-500. This system also features an internal water flush, which is used to cool the drill as well as flush away loosened deposits. Various drill heads and tools are available to complete virtually any job.
Systems for Cleaning and Maintenance
Largest inventory in Europe