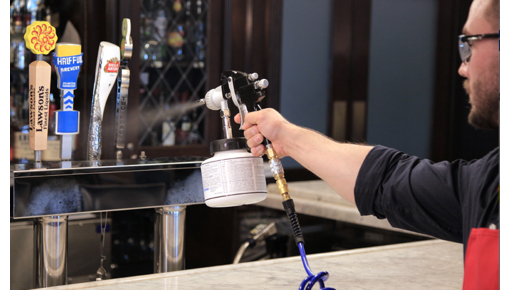 Surface Sanitization
Goodway Benelux supplies innovative surface sanitization and disinfection systems. Various equipment is available for every type of customer; from small service companies to large production sites or hospitals.
Sanitization & Disinfection
Goodway Benelux supplies various equipment to both sanitize and disinfect surfaces. There are several devices available, which are in a different price category. This allows you to decide which device has the best price/technical ratio for your application.
Biospray Line (highest class)
The Biospray line is specifically designed for end users who are mainly located in the food and beverage industry, hospitals or other production technical locations. The Biospray devices are state-of-the-art and the best devices that Goodway offers.
All systems are CO2 powered, so there is no need for electricity or compressed air to power the devices. In addition, they use Biospray D2. Which is an unique product based on Isopropyl Alcohol. Read more about Biospray-D2 here.
Fogger Disinfection System (semi-professional)
The fogger disinfection system is compact, handy and quick to use. These systems are cheaper than the Biospray systems. The fogger is especially interesting for (smaller) service companies, who perform disinfection work on the daily. Because the system is very compact and durable, it could easily fit in a van of a contractor.
The fogger system is basically a nebulizer with an adjustable nozzle based on microns. This allows you to set the amount of liquid you are going to spray the application with.
Interest / More information
If you are interested in our systems and would you like to know more information, please take a look at our website. Here, we have already made a lot of data available. If you prefer to speak to a specialist, please contact us by phone or e-mail. Of course you can also chat with us on the website.