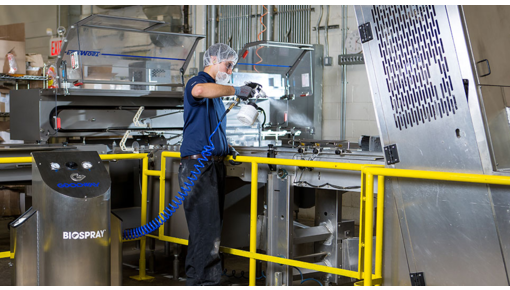 Sanitization Systems
Goodway's innovative systems allow you to sanitize & disinfect quickly, effectively and safely. Use these systems for various applications and applications such as; production rooms, operating rooms and other high-care environments.
Various Systems
On this page you will find 2 different categories within disinfection equipment. Here a distinction is made between the type of (end)user:
Biospray
The Biospray line is the most expensive and qualitative line of sanitization and disinfection equipment that Goodway offers. These systems are made entirely of stainless steel 316 and are powered by a unique CO2 system. No compressed air or electricity is required. Potential end users of this system could be:
Food companies (processing and/or production) - for the sanitization and disinfection of production sites or specific areas.
Hospitals - for the continuous treatment of areas in which patients have been or will be.
(non) Commercial institutions, such as: zoos, supermarkets, schools, stores, etc.
Hotels and vacation parks.
Fogger Disinfection System
The fogger disinfection system is specifically designed for end users who do not want to pay too much, for example for a Biospray system. Often these are smaller (service) companies, who also want to sanitize or disinfect.
The fogger system offers excellent disinfection properties, because the nozzle uses an adjustable button, with which you can adjust the micron value. So you can choose how much liquid you spray over the application. This can be 100% for public areas for example (+- 100 micron). However, for desks and other objects located in a room, you could choose a lighter spray of approx. 30-40 micron. This will sanitize and disinfect, without making the application too wet.
The fogger system is often used by companies such as:
(small) service companies that perform daily disinfection work.
(Small) Commercial stores that want to disinfect their environment.
Hotels and Motels.
Interest / More information
If you are interested in our systems and would you like to know more information, please take a look at our website. Here, we have already made a lot of data available. If you prefer to speak to a specialist, please contact us by phone or e-mail. Of course you can also chat with us on the website.
Click on this link to go to customer service.