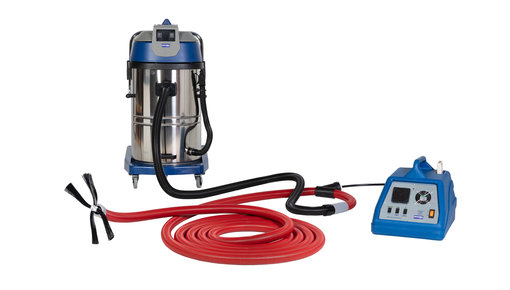 Professional Systems
Welcome to the top-of-the-line page for air duct cleaning, this page is focused on bringing the best quality equipment to the professionals. This really allows you to clean each channel in the best way possible.
The Systems
Goodway Benelux offers various systems to clean air ducts, on this page they are all machine packages. This means that everything is driven by a machine/motor. Not a drill or anything like that.
The principle is that the contractor has a machine, which stands at a fixed place, to which a flexible hose is connected that eventually makes a brush run. Of course, in combination with suction.
Our topper, the CDC Set, is equipped with internal suction. There, extraction is carried out directly at the brush tip, which is not only very effective, but also makes external extraction unnecessary.
Why these Systems?
These complete cleaning systems offer the complete package. In terms of execution for the executor it is a pleasure to work with, the principle is simple and the equipment required minimal training to deploy. In addition, it is a professional set, no matter what the customer sees. So they really get value for money. 
Why search the internet to put together a complicated package, if they are already made for you here? Many of our customers experience the packages as a pleasant and easy way of working. Because our experts put together a package with everything you need, you no longer have to worry.
Areas of application
The Professional Systems for air duct cleaning can be used for various application areas, below we have categorized our 3 best systems in which area they perform best.
CDC Set: Already to have a complete cleaning set with everything you need in it. This system can be used for channels of 100 - 800 millimetres and works most effectively when there is soft soiling in the channel. Removing dust pollution is what this system is made for.
This is also because the brushes are very soft and take on any kind of channel.
Rotating Vent Brush: This is a larger system on wheels, where everything is already in it. This allows you to work well at larger complexes, such as hospitals and offices. Because it also has a HEPA filter, you can collect and dispose of even the smallest dirt. Here we also advise to remove softer soiling.
AQ-R1500: This system is driven by a strong machine which then drives a heavy-duty hose. This is often followed by a Spider Brush.
So this system is really made to remove heavier pollution in all kinds of channels, including air ducts.
Personal assistance
You're not getting out, are you? Then use our live experts on the chat at the bottom right. They will be happy to help you choose a set based on your preferences and activities.
Or call us directly through the contact form.