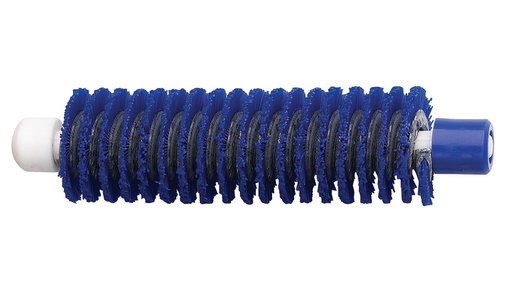 Projectiles
Projectiles are very important in the cleaning process of pipe bundles. The result of a successful cleaning is the selection of the right projectile(s) and the correct dimensions.
Read more
Different Species
Various types of projectiles are available. This all has to do with the material of the scrubbers, what they are used for and of course what dirt they have to remove. Below you will find a short summary of all types of scrubbers:
Tube Scrubbers.
These are the simplest scrubbers, made of durable polyethylene. They can be used for any pipe, including titanium. Tube Scrubbers can be shot through with both the QS-300 and BFP pump. These scrubbers serve as cleaning projectiles for soft soiling such as; Sludge, Alg, Mud, Sand and more.
On average, they can be reused 3 times.


Coil Brushes.
Coil brushes are advanced projectiles with a harder nylon outside, again they can be used for any pipe. These scrubbers are custom made for installation and can be shot through with both the QS-300 and BFP pump. Contamination that can be removed: Soft to medium-hard contaminants such as shells, smallpox and mor
e. They can be reused 3-5 times on average.


Coil Brushes 3'' Bi-Directional
Bi Directional have the same specifications as the Coil Brushes. However, these projectiles are longer, so they can stay in contact with the pipe longer and remove more pollution.
The biggest advantage is that these scrubbers can be fed into the pipe from both sides.
This saves a lot of time when they are dirty and the front and back can no longer be distinguished. Only possible by shooting with the BFP pump.


Carbon Steel Super Scrubbers
These are Goodway's most advanced and strongest scrubbers. They can be reused between 5-10 times. Because of the strong carbon steel springs, these scrubbers can even remove limescale. Only possible by shooting with the BFP pump.
These scrubbers can be used against all kinds of hard deposits in the pipes.


Why Projectiles?
Cleaning with projectiles is not only safer but also a lot cheaper. Because the scrubbers can be reused, your costs are even lower. Furthermore, it is a very friendly method to keep your pipes free of internal damage.
Which is often a problem when cleaning with 1000+ BAR high pressure.
Personal Advice
All scrubbers above the tube scrubbers are often custom made for the customer and the installation(s) to be cleaned. This is where our experts help. They look with the customer at the technical drawing, expectations and experience. In this way, based on all the information, they can make a proposal to supply the right scrubbers.
Of course it is also necessary to use a launch system, this can be a QS-300 or BFP System. These systems can also be rented.
For more information please contact us here.