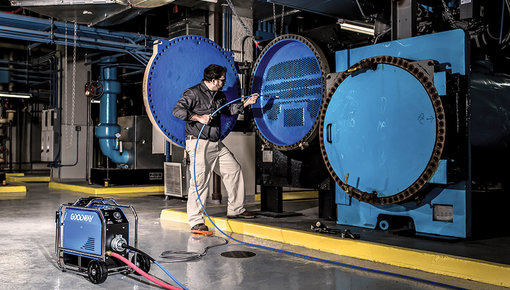 Complete Packages
Complete packages have been put together by experts from Goodway Benelux. These packages contain all the equipment and products you need to clean tubes internally. Very interesting for example; chillers and condensers.
Read more
Frequently Asked Questions


1. Why do you offer complete packages?
The experts of Goodway Benelux have put together a number of complete packages for the cleaning and maintenance of heat exchangers, for example: condensers, chillers and evaporators. These packages contain all the necessary Goodway products and accessories that you need for professional cleaning and maintenance. With a complete package in place, there is no need to look further or assemble something yourself.
2. What is included in a package?
The contents may be different based on the package you choose. In all cases you will receive a tube cleaning system, flexible shaft and brushes. So you can always perform a cleaning with. You can also choose to expand the package with other accessories such as: maintenance set for the flexible shafts, extra brushes, inspection camera, etc.
3. What information is important while selecting a package?
It is especially important that you know the internal tube diameter and the length of the tubes to be cleaned. The Goodway Benelux packages contain sufficient products for a certain range of inner diameters, which you can select yourself with the package. Not sure which package suits your application? Please feel free to contact our customer service for more advice.
4. What is the advantage of a complete package?
The experts of Goodway Benelux have assembled the packages based on experience and feedback from customers. We can therefore assure you that the right products are included in order to start cleaning and maintaining heat exchangers right away.