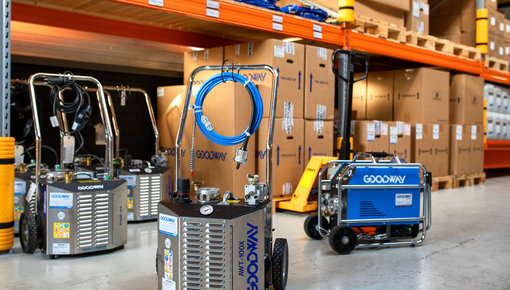 Rotary Tube Cleaning Systems
Goodway tube cleaners are the gold standard in tube cleaning technology for chillers, absorbers, condensers and other heat exchangers. A variety of tube cleaner models are available to meet your exact needs.
Read more
Frequently Asked Questions

1. What is the difference between the different tube cleaning systems?
Goodway Benelux offers various tube cleaning systems. All systems are designed to power a flexible shaft. However, there are differences in areas such as: performance, mobility, power supply, etc. Each device has its own advantages and disadvantages. Therefore, there is always a suitable device available for any application. Below are some examples of the differences.
Speed: the standard speed for tube cleaning systems is 862,5 rpm. Devices such as the RAM-4 and RAM-PRO can only rotate at this speed. Other devices such as the RAM-PRO-XL and AWT-100X have an adjustable speed setting. In general, an adjustable speed setting is not necessary. However, this is very useful for harder deposits and/or fragile tubes.
Mobility: Devices such as the RAM-PRO are very compact and are therefore often used in the maritime industry where they are placed in confined spaces. Devices such as the RAM-4 and AWT-100X have a wheeled housing that makes them easy to move without having to lift them.
Power Supply: Devices such as the RAM-PRO and RAM-4 require a fixed power supply of 220V, 50Hz (or 60Hz) to function. Some devices can also operate at both 50 and 60Hz. Other devices such as the AWT-100(X) operate on the basis of compressed air. These devices are much more powerful and are more often used at industrial locations or when harder deposits have to be removed.
2. How do I know which device I need for my application?
We advise to always contact our product experts to get good advice. However, you can already think about your situation. What kind of deposits do you have, is the space very limited or is there sufficient workspace available and what power supply do you have available? With the answers to these questions you can often already make a selection of suitable devices.