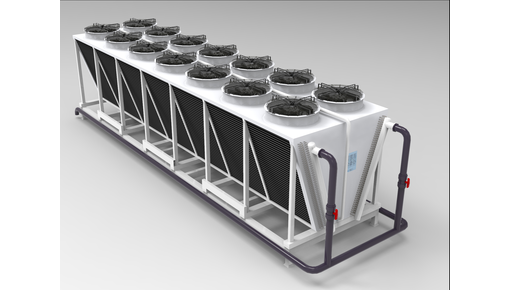 Coil Cleaning
Goodway Benelux offers low pressure coil cleaning systems. Allows you to clean lamella blocks effectively and safely, using low pressure. Very interesting for general maintenance and cleaning of drycoolers, air-cooled condensers and more.
Coil Cleaning
Why Coil Cleaning?
Little or no maintenance on HVAC / refrigeration and heat technical installations can result in an efficiency loss of more than 50%! This does not mean that only your installations will have to run harder and shorten their lifespan. But also that costs and energy consumption can increase drastically. 
Technical cleaning of these installations is therefore a must. Therefore, use the right equipment from Goodway to keep efficiency high.
Introduction Coil Cleaning
Coil Cleaning at Goodway Benelux means cleaning lamella blocks at low pressure. Of course high pressure cleaners are available, but the main line is low pressure.
Low pressure cleaning ensures more safety for the user, but also for the installation. This reduces the risk of damage and flattened slats during and after cleaning.
Advantages Low Pressure Cleaning
The advantages of low pressure are enormous:
More safety for the user and installation
Low pressure for more control during cleaning
High water flow ensures strong rinsing effect
Various models available including with battery and/or water tank
Offer
Goodway Benelux offers various models of low pressure cleaners, each system has its own advantages and disadvantages. In addition, there are various applications for these systems. Think about it:
Cleaning of smaller air conditioning systems
Cleaning of larger cooling and heat installations including air-cooled condensers
Cleaning of air installations a.o. air handling units
Goodway offers various models with more and less pressure, water flow and possibly with battery packs. This allows you to work even in the most remote places, because you have your own water and power supply.
Personal assistance
You're not getting out, are you? Then use our live experts on the chat at the bottom right. They will be happy to help you choose a set based on your preferences and activities.
Or call us directly through the contact form.