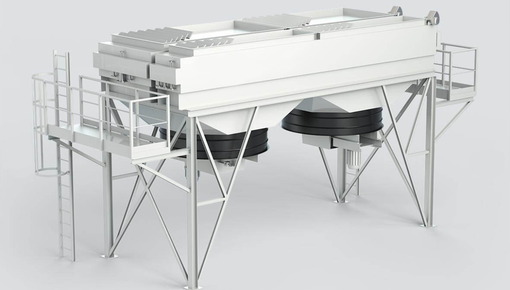 Air Fin Coolers
Air fin coolers have tube bundles that must be periodically (internally ) cleaned to keep the heat transfer at optimal levels. Goodway Benelux offers special cleaning equipment for this.
Read more
€2.995,00 Excl. tax
€3.623,95 Incl. tax
€1.650,00 Excl. tax
€1.996,50 Incl. tax
Systems for Cleaning and Maintenance
Largest inventory in Europe
Air Fin Coolers - Cleaning and Maintenance
Air Fin Coolers are important systems in an industrial process, therefore it is important that these systems function as efficiently as possible. However, this is only possible if correct, preventive cleaning is carried out. It is important that both the inside and outside of the tubes are cleaned.
Cleaning of the inner side
Internal cleaning of the tubes is possible in 2 ways; mechanical and pneumatic/hydrostatic. The mechanical method is based on a rotating brush with low-pressure water flushing. The advantage is that this method is very precise and (often) gives the most results. The disadvantage is that the method takes longer because it is a manual cleaning.
Pneumatic/hydrostatic is shooting through special projectiles based on low pressure water. The advantage is that the projectiles are shot through the tubes very quickly, making the entire cleaning time very short. This is possible with both the QS-300 and BFP system.
Cleaning of the outer side
External cleaning is often carried out by flushing with a high flow, this can also be carried out (if necessary) in combination with a cleaning agent. You can use the BFP system for this. It would only require a minimal modification in order to function correctly for this application.
This means that the BFP system can be used to clean both the inside and outside of the tubes!
Customer Service
If you need further assistance, please contact our customer service to discuss the possibilities and options. You can of course always chat with our employees by starting the chat function at the bottom right of your screen!