Goodway Benelux BV is the largest representative/distributor of Goodway products worldwide. For 30 years we have been supplying and advising Goodway products to end-customers and users. You can find us in almost every commercial and industrial setting, a number of examples:
Power Plants.
Petro Chemistry, Oil & Gas.
Maritime Sector; for example Cruise Ships, Oil Tankers, Cargo and Ferry's etc.
HVAC and Facility Maintenance, Air Ducts, Airconditioning Systems etc.
In addition, we participate in turnarounds at various locations. Our role is to supply and assist contractors and/or end customers with knowledge and products.
Goodway Benelux is a modern and innovative company that focuses on providing sustainable and energy-saving cleaning/maintenance technologies. For example, we offer solutions for cleaning various industrial applications, enabling us to make a lot of progress on the following facets:
Downtime. (Cleaning methods are much faster, which will greatly reduce the overall turnaround time of a cleaning and thus the downtime of a system/installation).
Safety. (Goodway only provides low pressure cleaning methods, completely eliminating the dangers of high pressure - safer for the operator and the system)
Water consumption. (Because our methods often use very little water, thousands of liters of water can be quickly saved during cleaning and maintenance.)

HQ & Distribution Center
Goodway Benelux operates from a central HQ and Warehouse, located in Werkendam, The Netherlands. From this location, all kinds of customers within the EU are supplied. Furthermore, our location in The Netherlands is very centralized, which makes it easier to do demonstrations on various locations. Also our facility is very close to the port of Rotterdam, allowing for fast and easy imports and exports.
Because Goodway Benelux has been in business for over 30 years, we have a good stock level and know exactly which products are important to have in stock. For example, almost all systems and associated spare parts are well stocked, which allows us to deliver very quickly.
Delivery times are often 1-2 working days for the BeNeLux and 2-5 working days for the EU, depending on the country and chosen shipping method (standard or express).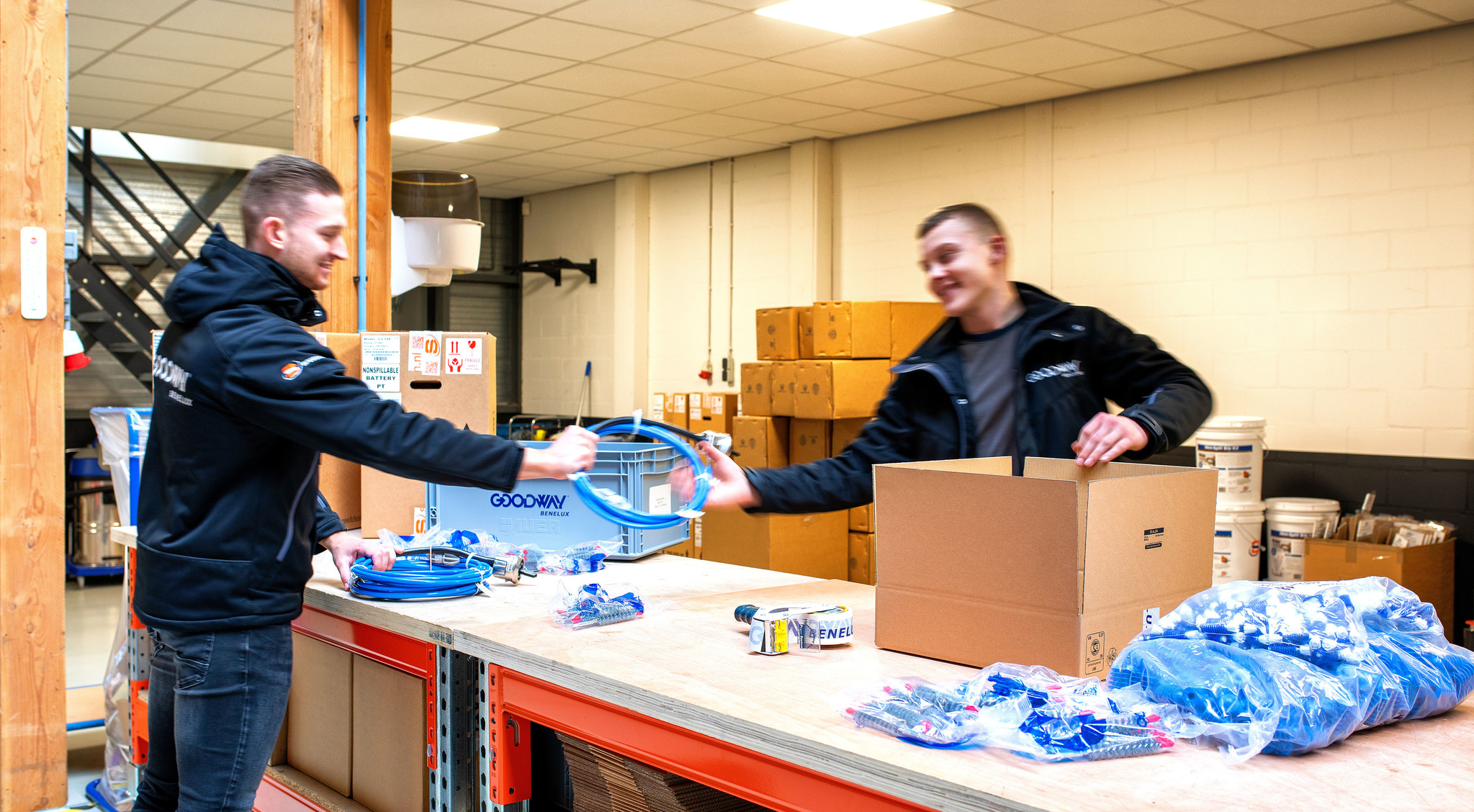 Workshop and Repairs (aftersales)
Goodway Benelux puts quality and service first. This process starts at the workshop. Therefore, we ensure (as the only distributor) that all our equipment is delivered on the basis of ''plug & play''. This means that all of our equipment is fitted with the right plugs and water / air connections. (industrial grade)
Going further, our in-house technicians are resposible for all repairs, modifications and inspections of your equipment. Annual maintenance contracts are also among the options. In addition, all the equipment is tested and inspected in accordance with European and Dutch legislation. Our equipment is tested and certified according to:
CE Certification
ARBO/VA Certification (Dutch)
NEN3140 Certification (for all electrical components in a system)
Airpressure Certification(s) - (for pneumatic powered systems)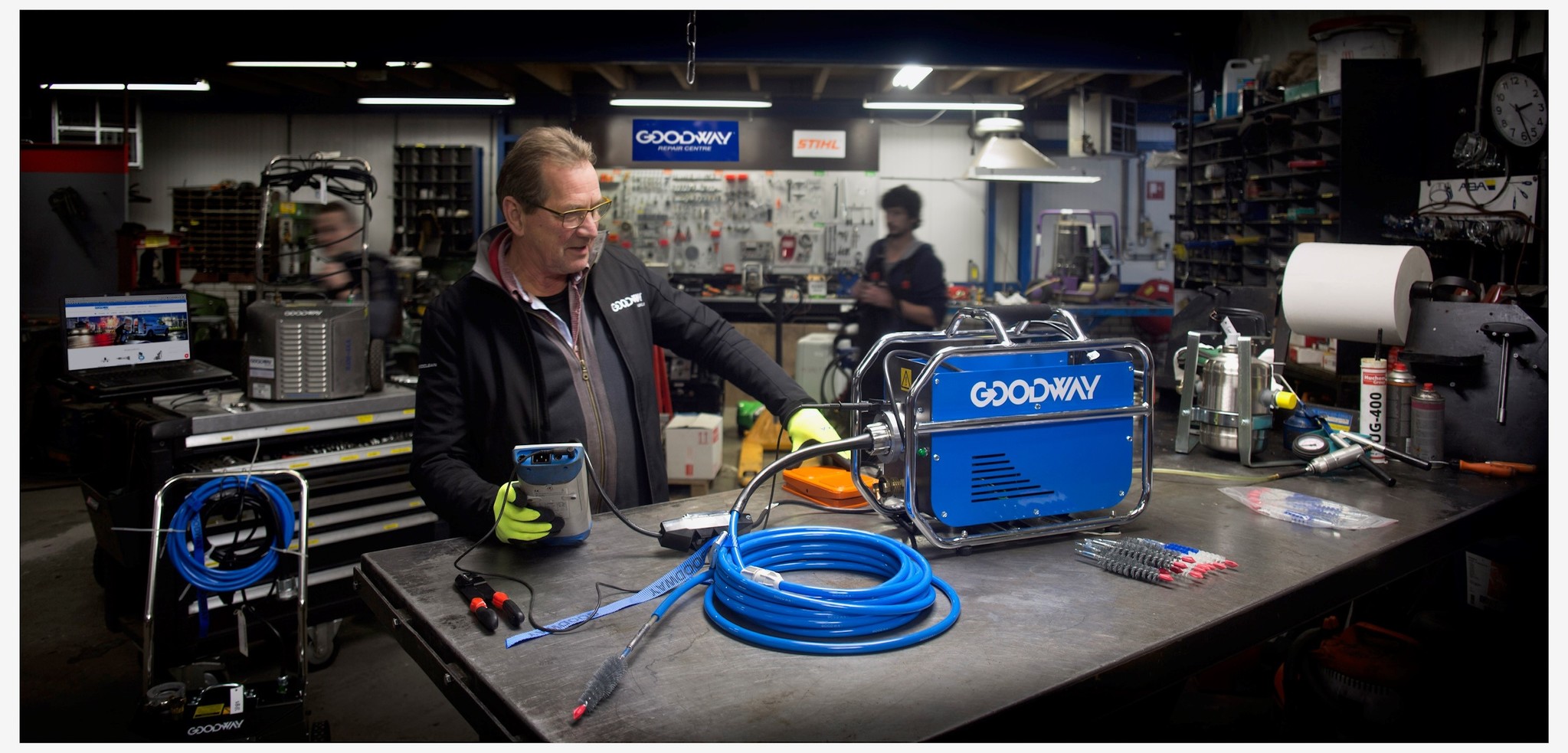 24/7 Support and Service
Because our customers often operate their installations 24/7, our customer service is available and on call 24/7. Thus, we have the ability to be at any location in NL within 2-3 hours, regardless of the time. If you call our general telephone number outside of the usual business hours, you will be transferred directly to the emergency line, where you can speak to a specialist immediately and present the situation. There a solution and plan can be drawn up.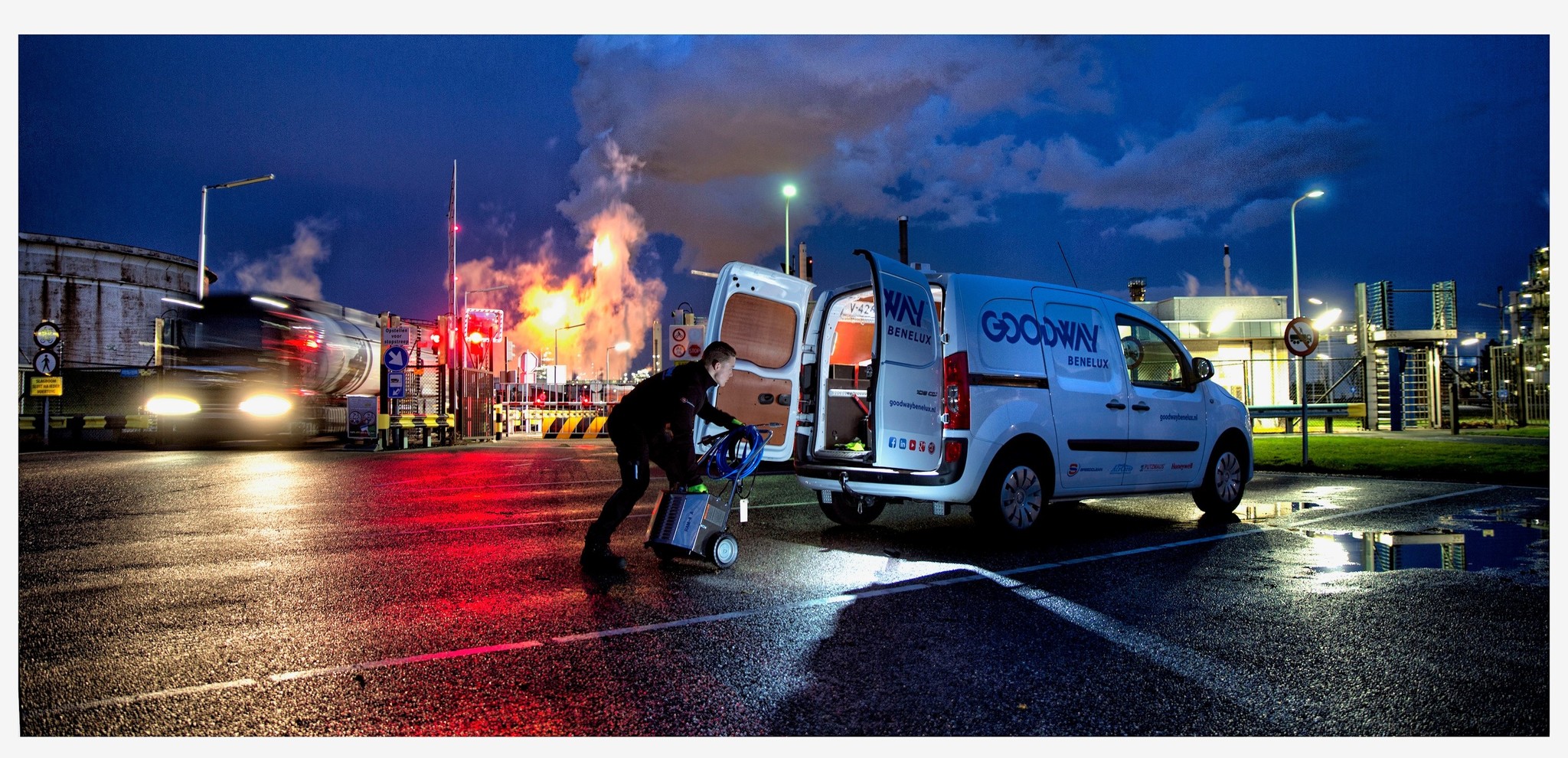 More questions and/or information
For more questions and / or information, we are happy to help. Simply contact our experts @ customer service, there you will receive adequate support.