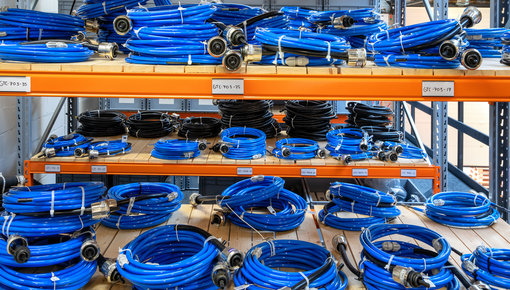 Flexible Shafts
Flexible shafts make the connection between the machine and brushes/tools. Flexible shafts are available in different diameters, lengths, and couplings. Choose the right type of shaft for your application.
Read more
Frequently Asked Questions


1. What is the difference between the various types of flexible shafts?
There are 4 types of flexible shafts that Goodway Benelux supplies, below you will find a brief overview of each flexible shaft and where it is used for.
2. What is important to pay attention to when choosing the right flexible shaft?
There are many different variations of flexible shafts, this is because each installation has a different internal tube diameter and length. So you have to make sure that the flexible shaft is suitable for the application for which you intend to use it. For example: for an internal tube diameter of 15 millimeters, we recommend a GTC-703 blue shaft. This shaft has an outer diameter of 13,0 millimeters and therefore fits well in the tube. If the tube has a length of 7,5 metres, we recommend taking a length of 10,7 metres. Always choose a longer shaft than the tube length, because you also have to bridge the distance between the machine and the tube plate.
3. Do you have any tips for using thin flexible shafts?
The thinner the flexible shaft, the thinner the core. A thinner core can handle less resistance/stress than a thicker core. It is therefore important to pay close attention to which brushes you connect to thin flexible shafts. If the brush is too big or heavy, it can cause the core to helix and break. So always try to combine the right shaft with the right brush size for a long service life.
4. How do you maintain a (blue) flexible shaft?
After a cleaning/maintenance job, some left over water will always remain inside the blue casing. If this water is not removed, it will cause corrosion and oxidation inside the shaft. This ultimately leads to shafts which cannot be used for the next job and/or have a significantly reduced total lifetime. In this blog you can read how you can easily maintain a blue flexible shaft.