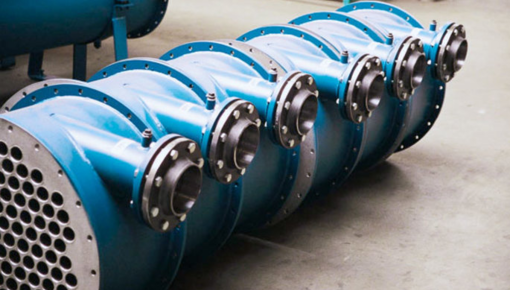 Flue Gas Coolers
Correct and preventive internal cleaning of flue gas cooler tubes is crucial to guarantee the best possible efficiency of the installation. Goodway Benelux supplies a special, rotating cleaning system for these type of maintenance activities.
Read more
Inner tube cleaning of flue gas cooler tubes
Goodway Benelux supplies innovative, rotating cleaning equipment for the internal cleaning of flue gas cooler tubes. Some production processes cause (a lot of) pollution in the tubes, which in turn has a negative effect on the efficiency of the entire installation. Correct and timely/preventive cleaning of the inside of the tubes is therefore very important.
By using a rotary cleaning technology, it is possible to effectively clean the entire tube wall. Due to the rotation in the tube, friction is created, which will quickly release the deposits. Depending on the hardness of the pollution, you can choose different brushes or cleaning tools. The experts of Goodway Benelux are happy to help you with this.
Goodway Setup
Goodway Benelux supplies a 3-part cleaning and maintenance system. This consists of a rotary tube cleaning system, a flexible shaft and brushes or cleaning tools. As soon as the tube cleaner is turned on, the brush or cleaning tool will start to rotate.
Tip: it can offer added value during cleaning to use a strong extractor/vacuum. This allows you to quickly and effectively vacuum and dispose of all loosened deposits. This contributes to both the speed of cleaning and the final result. The brush will also have more space to clean if the deposits are removed immediately.