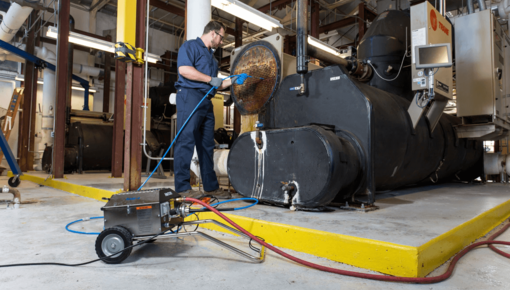 Tube Cleaners
Goodway Benelux supplies tube cleaning machines for cleaning tube heat exchangers. Remove soft, medium and hard deposits in tubes of, for example, water-cooled chillers by means of rotating brushes.
Read more
Industrial tube cleaning machines
Goodway Benelux supplies tube cleaning machines to clean tube heat exchangers by means of rotating brushes and tools. With this type of cleaning (nylon) brushes are used to remove depsoits from the tube wall. Because the brushes rotate at high speed, friction is created in the tubes. This friction causes the deposits to come loose. At the same time, the low-pressure water flow ensures that the fouling is flushed out of the tubes.
A tube cleaning machine is used in combination with flexible shafts and brushes. The right combination can be chosen based on the tube diameter, length and type of fouling. Tube cleaning machines are easy to use and can be used with minimal training.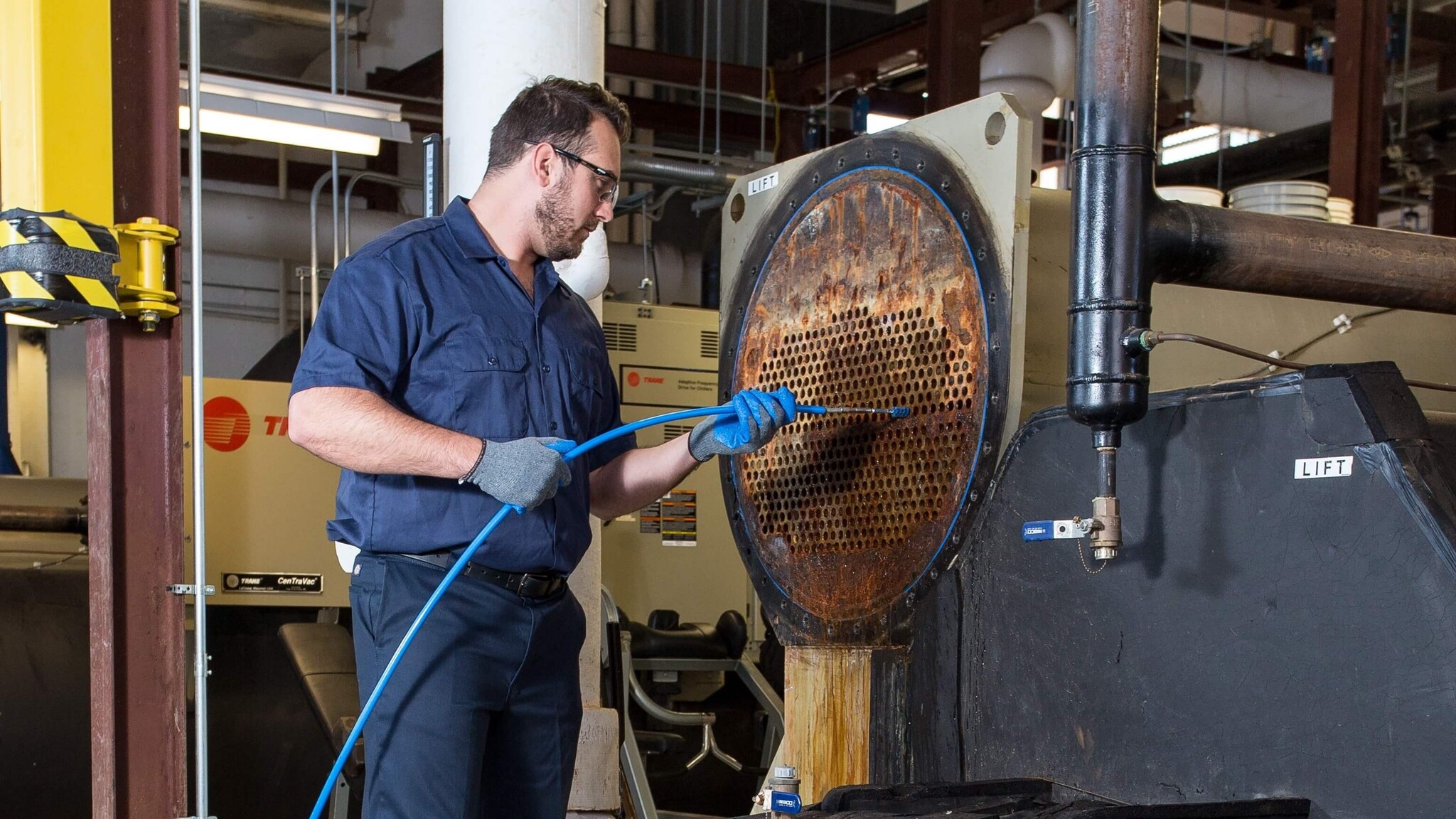 Use of tube cleaning machines
Tube cleaning machines can be used for many different applications. It is also possible to clean tubes with or without water. Based on the application, one of several tube cleaning machines will be the best choice. The experts at Goodway Benelux can advise you on this. Some common applications are:
Tube cleaning of water-cooled chillers
Tube cleaning of industrial shell and tube heat exchangers
Tube cleaning of boilers
Tube cleaning of falling film evaporators in the food industry
Dry tube cleaning of tubes and piping (90-400 mm)

Tube cleaning of water-cooled chillers
Water-cooled chillers from well-known manufacturers such as Trane, Carrier, and York have tubes that become fouled over time with deposits such as algae, slime, biological fouling, and scale build-up. Tube cleaning with rotating brushes is a very effective way to remove the deposits in a safe and efficient way. In most cases, the nylon brushes will have sufficient cleaning effect to remove all deposit build-up. Depending on the amount of tubes in the condenser, different tube cleaning machines can be chosen.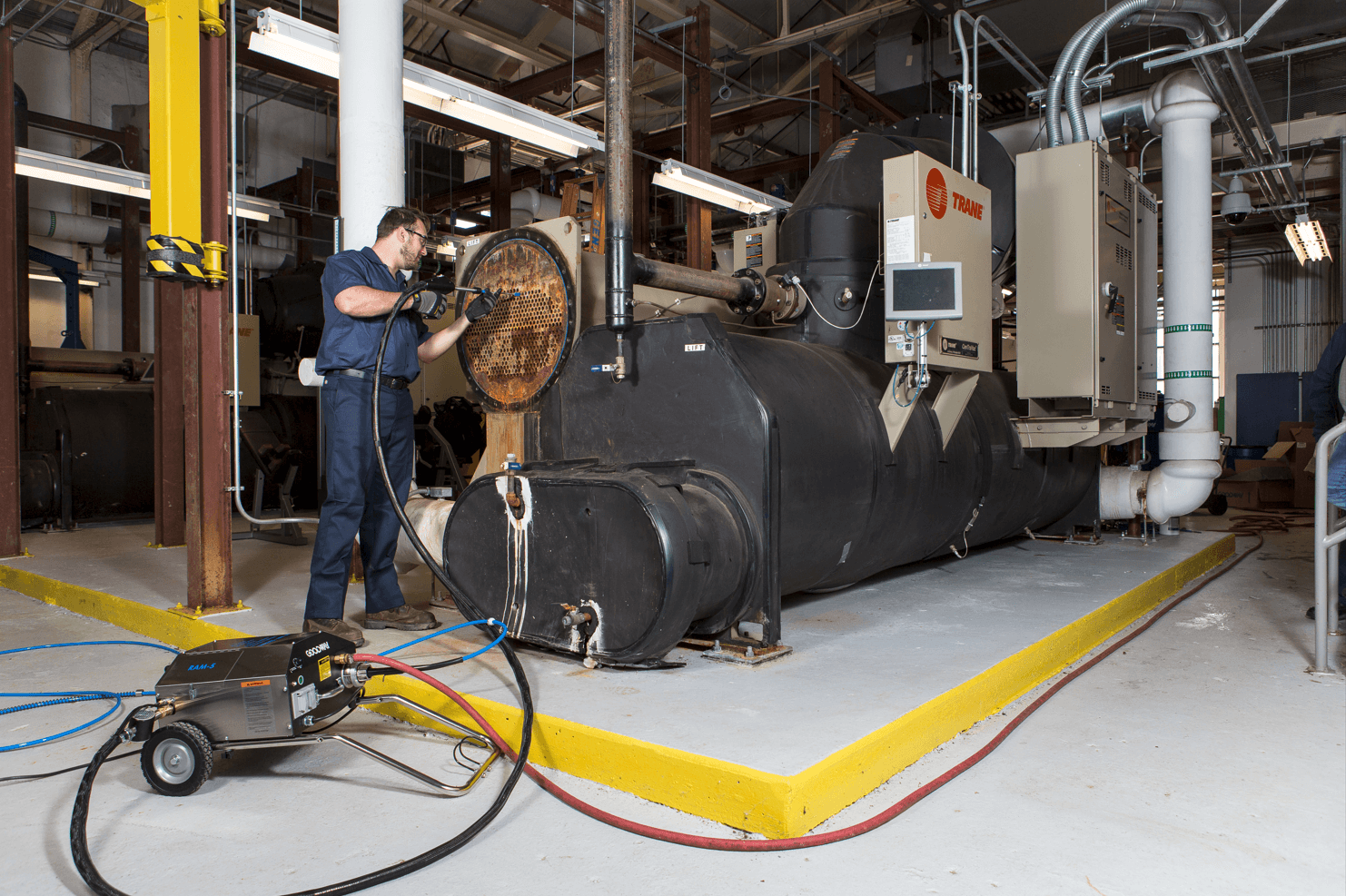 Rotary tube cleaners
Goodway tube cleaning machines are also known as rotary tube cleaners. This term is often used in the maritime industry, where rotary tube cleaners are used to remove fouling in AC condenser tubes but also other vital systems, such as tube coolers of compressers or hydraulic systems. Popular rotary tube cleaners in the maritime industry are the RAM-PRO and RAM-5 tube cleaning machines.
The RAM-PRO, RAM-5 and all other tube cleaning machines are also often used for other applications and industries. Such as industrial tube cleaning at power generation plants, refineries, commercial HVAC in buildings & manufacturing plants and food and beverage plants.