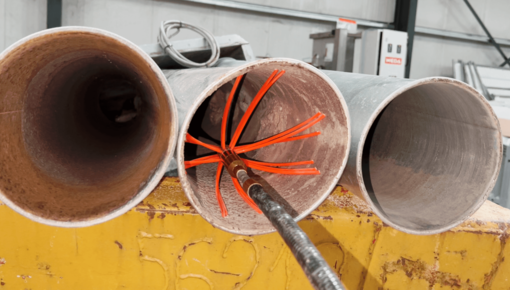 Dry Pipe Cleaning
Goodway Benelux supplies equipment for dry cleaning of production and transportation tubes by means of a rotating brush or cleaning tool. For internal tube diameters of 100-900 millimeters.
Read more
Dry tube cleaning of transportation- and production tubes
Goodway Benelux supplies equipment for dry cleaning of production- and transportation tubes. This equipment is used in both food and non-food industries. For example, production companies that have too much flour powder in the tubes, or plastic factories that have product-residues in the tubes. This method can almost always be used for tubes with an internal diameter between 100 and 900 millimeters.
Tube Cleaning Procedure
The system works on the basis of a rotating brush or cleaning tool. This is powered by a tube cleaning system/machine. The brush can rotate between 500 and 3000 RPM, depending on the chosen system that powers it. This will create friction in the tube, allowing the contamination to be loosened. It is then removed by a local or central extraction system.
Deployment in the industry
The dry tube cleaning system can be used in almost any industry, both food and non-food. The contamination can also vary, Goodway Benelux supplies both nylon and stainless steel spider brushes. These brushes are oversized and are the primary brushes used for tube cleaning.
However, if the deposits are stronger, such as hardened milk powder, one can also opt for heavier cleaning tools. Below is a video of a flex hub tool in combination with the AWT-100X system. You can watch the video here.
Multipurpose
The tube cleaning methodology and equipment is multipurpose, which means it is suitable for more than 1 application. For example, many customers do not just clean 1 type of tube, but several. This is because the entire setup remains the same, regardless of the tube diameter. The only thing that changes is the brush. (Range: 100-900 millimeters)
In addition, some machines/systems can operate both with and without water, such as the AWT-100X system. The AWT-100X is Goodway's most powerful system and is also often used for cleaning (heavily contaminated) heat exchangers or boiler firetubes. So you can use the systems for multiple purposes and types of installations. Contact the experts at Goodway if you have further questions.
Custom Service
If you need further assistance, please contact our customer service to discuss the possibilities and options. You can of course always chat with our employees by starting the chat function at the bottom right of your screen!
Goodway Benelux also has trained professionals who can perform an inspection at your location. Based on this, we can then look for a solution.