|
Article number:
BFP-3510-380-R2
The BFP Big Shot System is a kinetic-hydrostatic system designed to shoot special projectiles through heat exchanger tubes. Ideal for quick cleaning of (larger) types of heat exchangers and surface condensers.
Information
Heat exchanger tube cleaning
The BFP Big Shot System has been specially developed for the internal tube cleaning of (larger) heat exchangers. The system uses a kinetic-hydrostatic technology that shoots special projectiles through the tubes within seconds. These projectiles remove deposits from the tube wall by scraping it off. This immediately improves the heat transfer and thus the efficiency of the heat exchanger.

Applications
The BFP Big Shot System can be used for various applications. The system is mainly used to clean larger types of shell and tube heat exchangers in various industries. Depending on the fouling, a different type of projectile can be chosen. Below you will find a number of examples of applications for which the BFP is often used:
It is possible to remove different types of deposits using this technique. Depending on the hardness of the fouling, a different projectile can be chosen. The BFP Big Shot System is powerful enough to shoot through all Goodway projectiles. The most common types of deposits found in heat exchanger tubes are:
Silt, algae, slime (biofilm), sand, mud, sludge, zebra mussels, barnacles, manganese and limescale
Attention: Heat exchanger tubes with very hard deposits that require (ultra) high pressure cleaning (2000+ bar) are not a good match for this cleaning method. A projectile tube cleaning can be performed after the initial cleaning to remove any left over deposits.

Kinetic-hydrostatic technology
The BFP Big Shot System uses kinetic-hydrostatic technology. In short, this means that the system uses 100% waterpower. In other words, 132 litres/minute at 28 bar pressure. This high and powerful flow ensures that the projectiles are almost instantly pushed through the tubes. The turbulence and flow of the water takes all loosened deposits with it, ultimately leading to a clean tube surface. The projectiles lose all energy when they leave the tubes, they fall out, so to speak. Which benefits general safety.
The kinetic-hydrostatic technology also offers a number of other advantages. In many cases, this technique is safer, faster and more efficient than traditional cleaning, such as high pressure lancing. Below you will find a brief summary of the main benefits.
Speed: the time saved when cleaning with projectiles is substantial. First you flush the tube without a projectile. This is done to check whether there is a blockage and to pre-rinse the tube. Afterwards, you load the projectile into the tube and shoot it through. This entire process takes about 10 seconds, regardless of the length of the tube.
Water consumption: although the BFP system uses 132 litres/minute, you only need about 10 seconds per tube. This amounts to approx. 20-25 liters of water per tube. This is a significant reduction compared to other cleaning techniques.
Safety: the system uses a low pressure technology (28 bar). This makes the cleaning process a lot safer for the operator. In addition, the tubes remain intact and undamaged, because they are not exposed to (extremely) high pressures.
Lower costs: the BFP Big Shot System is a one-time investment that is relatively low compared to other cleaning technologies and equipment. After that, you only need projectiles that can be purchased on a project basis or for a specific type of heat exchanger. Projectiles can be reused, further reducing variable costs.

Projectiles
A complete overview of all available Goodway projectiles can be found on this page. Below you can find a short summary of the different types of projectiles and what you can use them for.

1000 liter IBC buffer tank
The BFP Big Shot System is supplied in combination with a 1000 liter IBC tank. This IBC tank functions as a buffer tank for the BFP system. By adding this IBC, the BFP system works much smoother and safer. In addition, all incoming water is filtered in the IBC tank, so you can be sure that the pump itself will not be damaged by fouling in the water or pump cavitation.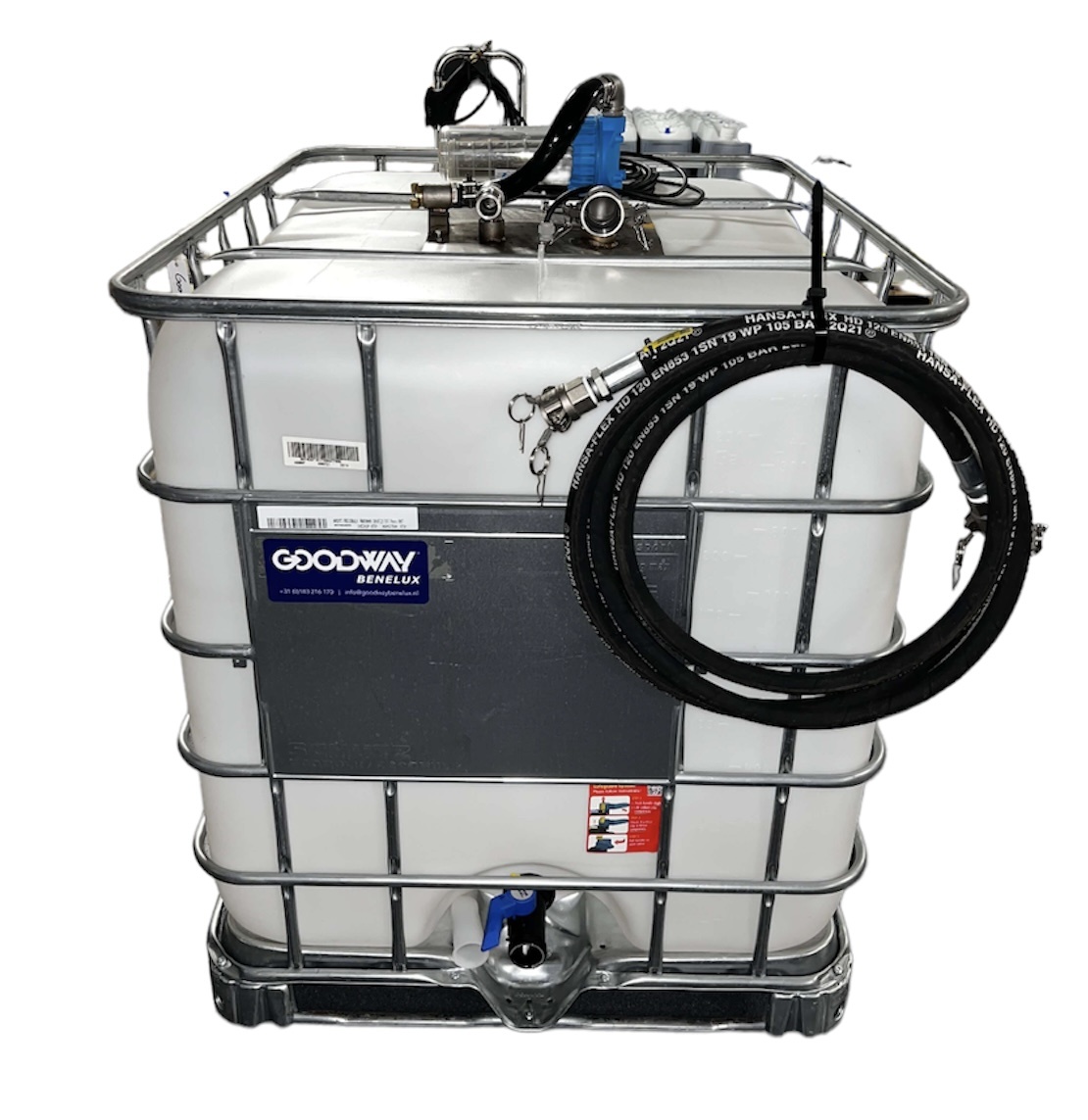 In many cases it is difficult to supply 132 liters of water per minute at 28 bar in practice. The IBC tank therefore has an integrated submersible pump that supplies the water under the correct pressure and volume to the BFP system. You only need a small hose that continuously supplies water to the IBC buffer tank. This supply water will be automatically closed by the integrated float switch as soon as the water volume reaches the maximum value of 1000 liters.

Technical specifications
| | |
| --- | --- |
| Motor power: | Electric 10 HP (7,5kW) |
| Certifications: | CE / ARBO (VA) / NEN3140 (not ATEX!) |
| Voltage BFP | 380V / 50 Hz (12 Amps) |
| Voltage IBC: | 220V / 50 Hz (4 Amps) |
| Water output: | 132 LPM / 28 BAR |
| Water input: | Minimum 132 LPM / 1,4 - 4,8 BAR |
| Spray hoses: | 19 mm diameter / 15,2 meters long |
| Water supply hose: | 38 mm diameter / 15,2 meters long |
| Dimensions: | 132 x 81 x 46 cm (length x width x height) |
| Weight: | 272 KG (600 lbs) |
The BFP Big Shot System is supplied completely ready for use, including a 1000 liter IBC buffer tank with integrated submersible pump and all necessary accessories. The BSL-50 tube cleaning guns are not included as standard. These can be ordered separately. In addition, you also need different types of projectiles for each project. Our experts are happy to help you select the correct projectiles.

Goodway Benelux advice
The BFP Big Shot is an advanced and specific tube cleaning system. It is therefore recommended to contact the experts at Goodway Benelux. They will be happy to help you with specific information. They can also advise you on the system and the necessary accessories.
Click on this button to go to our customer service page.
Specifications
Product
| | |
| --- | --- |
| Article number: | BFP-3510-380-R2 |
Reviews
average of 2 review(s)
By
:
Wijnand Guns – Cabot Rotterdam
Date
:
01/08/2022
We were in need of a system for a last minute (urgent) projectile tube cleaning of our condenser. We rented the BFP system from Goodway Benelux and were able to pick it up immediately. After a short start-up, we were able to perform an effective and quick cleaning.
By
:
Eide Torgils - Eramet Titanium & Iron
Date
:
02/05/2022
At our site we had problems with a titanium heat exchanger that was fully blocked with soft deposits. After having had contact with the experts of Goodway Benelux we came to the conclusion that the BFP system was the best solution to open and clean the tubes. The softer, plastic projectiles were selected to not cause any damages to the titanium material. After increasing the fuse size during initial startup we were able to perform the majority of the cleaning with the big shot, fast and easily. For the other tubes, we used a rotary tube cleaning system for a manual, precise cleaning. Resulted in good cooling. We will see for how long. The media particle content is quite high.
Combine this product with: