Complete Coil Cleaning Package
|
Article number:
CCP-230/50-60
Complete coil cleaning and maintenance package for air-cooled HVAC installations such as: condensers, chillers and dry coolers. Low pressure and high flow combined for an effective and safe cleaning effect.
Information
Cleaning air-cooled HVAC installations
Goodway Benelux offers a complete package for cleaning and maintaining air-cooled HVAC installations. The CC-400HF coil cleaning system has been specially developed for these activities. The system combines low pressure (30 BAR) with high water flow (12 LPM). This makes it possible to clean and maintain large installations effectively and, above all, safely without damaging critical components such as the fins and/or microchannels.
Applications within the HVAC
The complete cleaning and maintenance package is especially interesting for the following types of air-cooled HVAC installations:
Why clean at low pressure?
Air-cooled HVAC installations have coils with fins/microchannels that must be cleaned regularly. When the coils are full of atmospheric pollution, the airflow will drop sharply and directly impact the efficiency of the system. A fouled system can easily have a 10-30% higher energy consumption than a cleaned system . It is therefore important that a free air flow is maintained to keep the efficiency at an optimal level.
When cleaning with a high-pressure (80+ BAR) system, there is a good chance that fins and/or microchannels will be flattened and damaged. This damage will lead to a shorter lifespan of the installation as well as a reduced efficiency. In addition, high-pressure cleaning systems often have a lower water flow (5-6 LPM). However, flushing the installation with a high amount of water has been proven to offer the greatest cleaning effect.
The Goodway CC-400HF coil cleaning system offers a low pressure spray of 30 BAR. This makes it virtually impossible to flatten and/or damage fins and/or microchannels. The system also offers a high water flow of 12 LPM. This makes it possible to flush the coils quickly and effectively. A high waterflow ensures that the deposits inside the coils are flushed out completely, which ensures a free air flow.
Innovative cleaning (90 degrees)
One of the biggest advantages of the package is that it includes a 90 degree spray lance. This special spray lance makes it possible to clean larger V-type installations from the inside-out. This thin lance can easily be pushed through the fans, so that it is no longer necessary to disassemble the fans. This makes a huge difference in labor and increases safety of the operators during the cleaning job.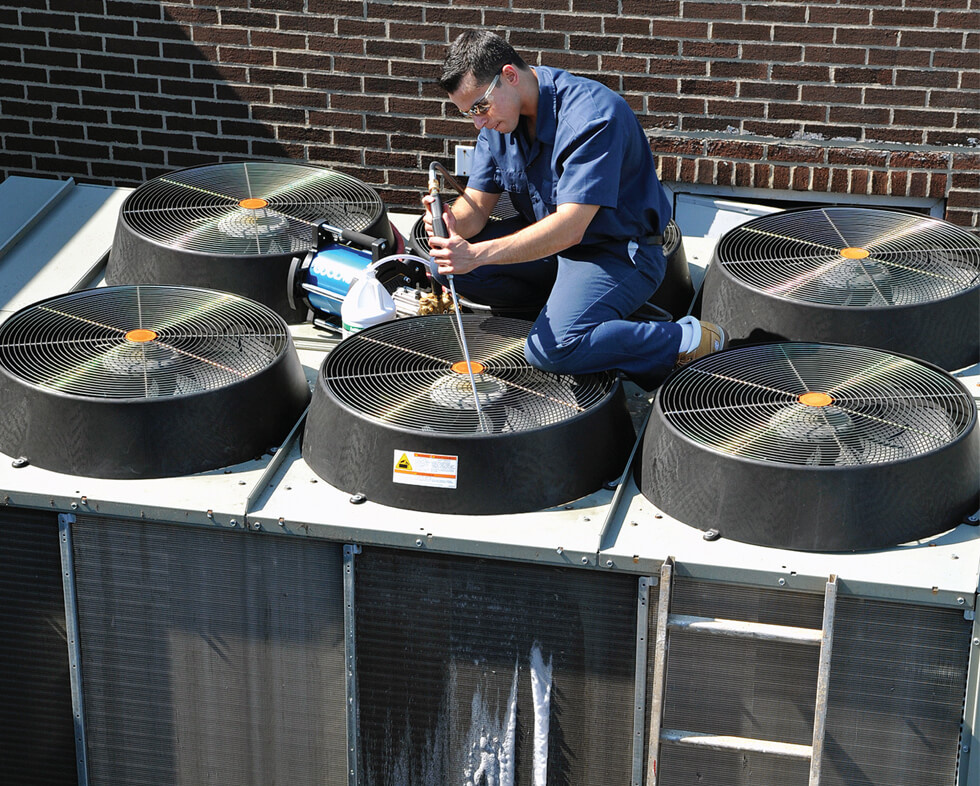 Scope of supply:
This package contains the following items:
1x CC-400 HF Coil Cleaning System (30 BAR - 12LPM flow)
1x 10 meter low pressure spray hose (black)
1x 10 meter watersupply hose (yellow)
1x 8945-48 (120 centimeter 90 degrees spraylance)
1x 9658-48 (120 centimeter extension spraylance)
1x QDN-45 Adapter (45 degrees)
1x QDN-90 Adapter (90 degrees)
4x 4 liter Coilshine cleaner + degreaser (alkaline & biodegradable)
Customer Service
If you need further assistance, please contact our customer service to discuss the possibilities and options. You can of course always chat with our employees by starting the chat function at the bottom right of your screen!
Specifications
Product
| | |
| --- | --- |
| Article number: | CCP-230/50-60 |
| SKU: | CCP-230/50-60 |
Reviews
average of 2 review(s)
By
:
Mario Paiha – Austroblast Austria
Date
:
22/07/2022
We were faced with a challenge of cleaning a large, horizontal air cooler. Combined with Coilshine cleaning agent, we successfully cleaned the thick coil by using the high flow, low pressure CC-400HF system.
By
:
Szabó Attila - Smartcool
Date
:
26/04/2022
• Very effective cleaning and disinfection solution mainly for air-cooled condenser coils
• Easy usage and handling for our technicians
• The weight of this service tool is a litle bit high compared to the other brands
• Easy water connection for the local domestic water source